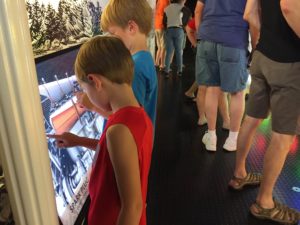 Indiana Historical Society's History on Wheels traveling exhibit will be in Kokomo as part of the 2019 Haynes Apperson Festival.  The 53-foot double expandable semi-trailer will be free and open to festival visitors daily, July 4 through 6, from 4 to 11 p.m.
While aboard History on Wheels, the Auto Indiana exhibit takes visitors on a ride through the state's rich automotive and racing heritage. Auto Indiana touches on the history of more than 100 Indiana automakers and manufacturers, such as Duesenberg, Gibson and Studebaker. The exhibit also delves into the lives of Hoosier innovators and inventors, such as festival namesakes Elwood Haynes and the Apperson brothers from Kokomo.
In addition to covering auto history, History on Wheels includes interactive activities for the whole family. A touch screen station allows guests to explore under the hood of a vehicle modeled after a 1914 Marmon Touring Car. Kids can also climb into the driver's seat of a mini Indy car and imagine what it would be like to cross the famed Yard of Bricks.
You can find the traveling exhibit near the intersection of Washington and Superior streets in downtown, at the northern boundary of Foster Park. For more information about the Haynes Apperson Festival, visit www.haynesappersonfestival.org.