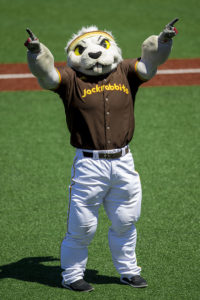 Note: There will not be a Kokomo Jackrabbits season in 2020.  Kokomo Jackrabbits Baseball will return in 2021 at Kokomo Municipal Stadium. Follow Kokomo Jackrabbits' Facebook page for updates.   
Hit a "home run" with your family with a visit to Kokomo Municipal Stadium in downtown to watch the Kokomo Jackrabbits baseball team this summer.
A college summer baseball team, the Jackrabbits are part of the Northwoods League. Tickets start at only $8, and various ticket packages are available.
And with the Jackrabbits, it's always more than just a game. There's as much happening in the stands as there is out on the field. Themed game nights, giveaways, pre-game festivities, and Kid Zone for youngsters create a fun game-day experience.
And best of all, it's all within walking distance to Kokomo's revitalized downtown, full of unique dining, shopping, art galleries, and adjacent to beautiful walking and biking trails along the Wildcat Creek!
For tickets and more, visit the Jackrabbits website here.
All games are subject to change.