Kokomo Summer Concert Series

Join us in Kokomo this summer for a series of free concerts, bringing big-name bands right here to Kokomo.
All concerts take place at the Kokomo Performing Arts Pavilion in Foster Park. These shows are family friendly, ideal for a date night or spending time with family and friends. Bring a lawn chair or a blanket for these evenings packed with fantastic entertainment.
All concerts are free!
Saturday, June 11, 2022 – Rubber Soul The Tribute with opener Wunderlick Band.  Rubber Soul the Tribute features the entire Beatles history in one night! Starting with the early Beatles, they also feature the psychedelic era of Sgt Pepper/Magical Mystery Tour and then include the "White Album", through "Abbey Road" and "Let it Be." They also mix in solo hits of John, Paul, George, and Ringo, and feature all the costumes, instruments and gear from their live performances. This is a show for all ages featuring the timeless hits of the world's most famous band, The Beatles! Learn more.
Saturday, June 18 – Weberfest featuring Rev. Peyton's Big Damn Band with opener Soupbone's Blackwater Mission. Rev. Peyton's Big Damn Band is a three-piece group out of southern Indiana. The trio delivers a powerful blend of country and blues in their high-energy performances. Learn more.
Saturday, June 25 – Carver Center's 25th Anniversary Celebration featuring When Doves Cry, a Prince Tribute with opener The Gene Deer Band. More than just an impersonation, When Doves Cry – the Prince Tribute Show, is a dynamic and multi-talented 8 piece band that puts the integrity of the music Prince left us above all else. Learn more.
June 30-July 2 – Haynes Apperson Festival
Each year, the Haynes Apperson Festival features a parade (2:00 p.m. on Saturday), carnival rides, car shows, sports festival, food vendors, fireworks and a full weekend of live music.
Opening the festival on Thursday night June 30th, back by popular demand and a crowd favorite, Here Come The Mummies. On Friday night July 1st the legendary Jefferson Starship with classic hits such as, "Miracles", "Jane", and "Find Your Way Back"! And, closing out the festival on Saturday evening July 2, is the incredible swing band Big Bad Voodoo Daddy.
All concerts are free. VIP tickets are available to purchase.
Get all details at www.haynesappersonfestival.org   
Saturday, July 16 – Rhumfest. Each year, Rhumfest is a day of live music highlighting the talented students and instructors from the Rhum Academy of Music.
Saturday, July 23 – Firefighters Annual Jeep Jam featuring Los Colognes with opener Joshua Powell Music. Characterized by their '70s style rock, this Nashville band infuses country and classic rock elements in their own unique sound. Learn more.
Saturday, August 6 – Kokomo Symphony Orchestra featuring ABBAFab. ABBAFab is a stunning tribute to the music of ABBA. This multimedia production features talented vocalists and musicians performing some of the greatest music from the 70s and 80s. This performance will include a VIP section, with tickets available for purchase in advance. Learn more and purchase tickets online at https://www.kokomosymphony.com/
Saturday, August 20 – The Flying Toasters with opener Howard Band. Known as a non-stop party experience, The Flying Toasters is a band out of Rochester, Indiana. The band's collection of talented musicians and their fun take on fan favorites make their performances great for the whole family. Learn more.
Saturday, September 17 – Summer's End featuring Endless Summer Band with opener Revolver Band.  Endless Summer Band is one of the nation's most in-demand entertainment bands performing 120+ shows a year. The band brings life to classic hits, with great vocals and instrumentation, high-energy choreography and audience participation. Learn more.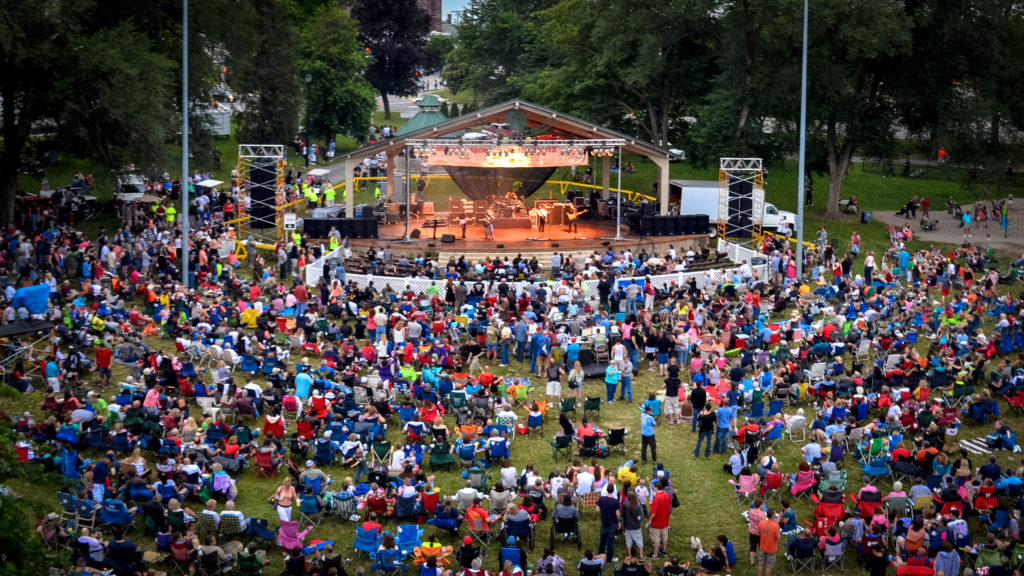 The Kokomo Performing Arts Pavilion, located downtown in Foster Park at 721 W. Superior St., provides quality, free entertainment for our community and Central Indiana. The outdoor pavilion is home to the Kokomo Summer Concert Series and other events throughout the year, and it is conveniently located within walking distance of many restaurants, shops and trails in downtown Kokomo.
Check out places to eat and things to do to make the most of your trip!